Have you ever wanted to write a song around the campfire? Our good friends in the band Streetlight Cadence wrote this song for us. A song made for the campfire. The only song made specifically for a marshmallow roasting stick I'm pretty sure. It's more of a love song than anything I guess. Imagine all the other commercials you see of chevy trucks, Budweiser beer and those cheesy commercials.
The band was doing a kickstarter campaign at first they pitched an amazingly comical jingle about the Rolla Roaster, I should have saved the early versions on that. I asked them to just write something inspired by the outdoors. They wrote an inspiring song and now have released it before I did. The music video I've bene planning on filming for over 7 years since they produced this song. Finally it was just released as a single for their next album coming up.
Lyrics for The Campfire
"There's rivers up these mountains , Where pine trees meet the air 
I think she's at the trails end , I think I'll find her there 
I hope she's at the campfire, And waiting there for me 
But if I never find her, At least I know she's free" -Streetlight Cadence
From Surf Sessions to Manhattan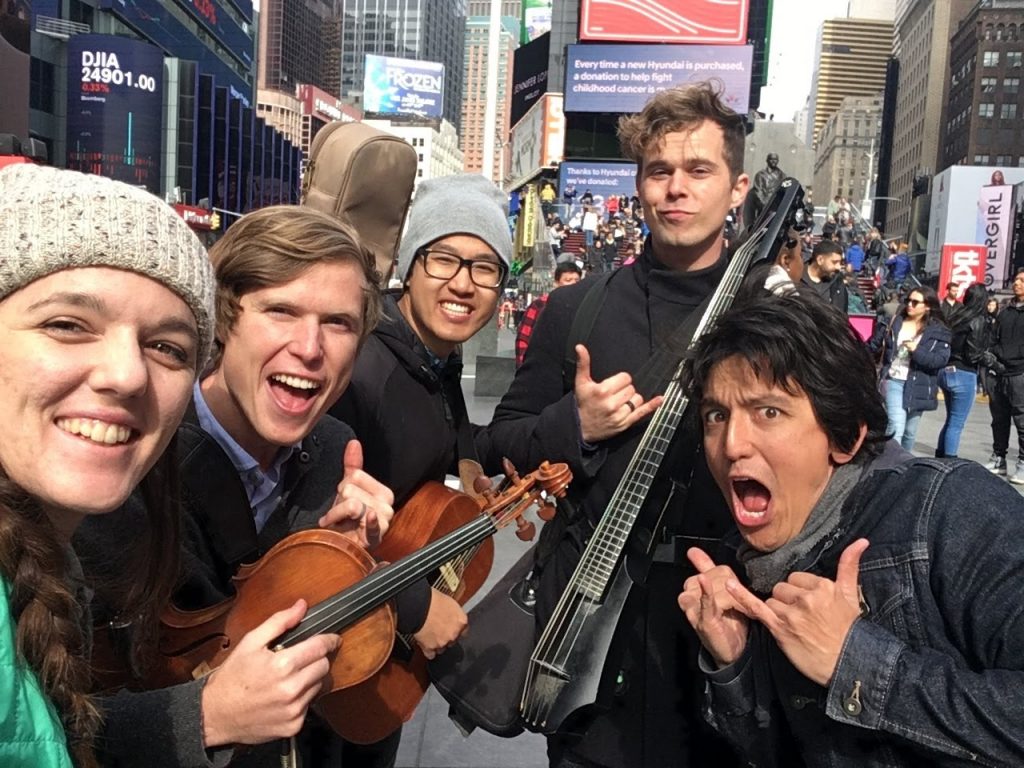 I went to college with Jon Franklin, he's the violinist and singer of Streetlight Cadence. Then Jesse the accordion player who happens to also be fluent in German yet born and raised in Hawaii. Then later on came Brian the cellist. Guitarists in this band have been many over the past 12 years since their early start on Oahu playing on the streets of Waikiki.
In 2018 they filmed a show called "Will Play for Food" and they opened up a whole new skill set as they became their own filmmakers for a documentary series. Thankfully I got to film part of this series with them that was filmed in New York, New Jersey and Boston. For the trailer if you see the clips from any of this amazing east coast locations I was the one who was blessed to get to film that. I especially like the shot of when they chase the birds up the steps.
Will Play for Food – Kauai, Hawaii
One of my favorite episodes that is posted on youtube is Kaua'i for the ninth installment of Will Play For Food!
We heard rumors that one of the best pizzerias in the world was hidden away here so we took to the valleys and streets to find it and the rumors couldn't have been more true. If you haven't been to Pietro's then you're missing out!
So if you're ever in Kauai and want some amazing Easygoing spot offering wood-fired Neapolitan pies, plus an outside window for NY-style pizza.
www.patreon.com/streetlightcadence
If you want to know the band's favorite s'mores recipes stay tuned!
Also check out the www.rollaroaster.com/shop