Here at Rolla Roaster, we are marshmallow enthusiasts. No, fanatics. We just really, really, really dig marshmallows. And what's not to dig? They're sweet, melty, gooey, and pair perfectly with chocolate. And when you smoosh it all between a graham cracker? Magic happens. It's gooey, chocolatey, and crunchy. You can't get much better than that.

It was that love of marshmallows—and spending time with loved ones in the great outdoors—that drove our founder, Bob Holzer, to invent the Rolla Roaster in the first place. He dreamt of a tool that stayed cool to the touch, telescoped to keep little ones safe from hot flames, and rotated to achieve perfect, golden, deliciousness—every single time, without fail. Basically, what we are trying to say is this: when the Rolla Roaster was born, Bob's dream came true.
Naturally, we get pretty darn excited when we find other marshmallow aficionados who share our passion for this delectable treat. And find one, we did.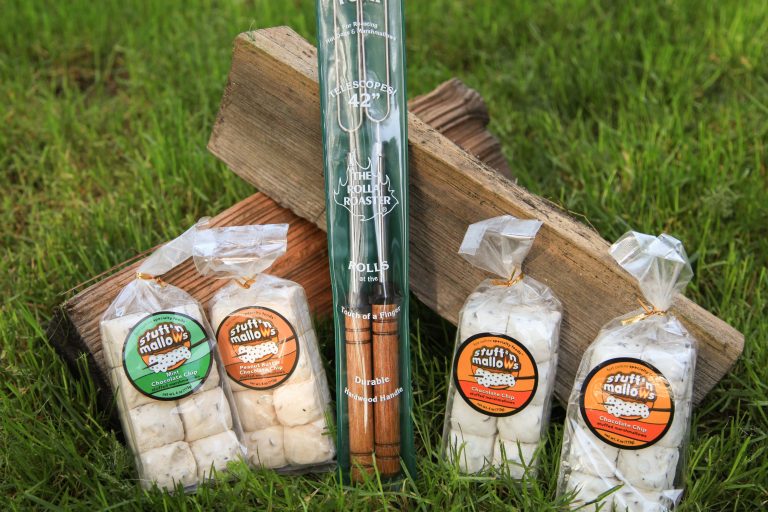 Say hello to Stuff'n Mallows, a company founded by foodies in 2013. I know it's hard to believe, but they are equally crazy for s'mores. And while Rolla Roaster focuses on the technical aspects of s'more crafting, Stuff'n Mallows focuses on the confectionery aspect. Match, meet Heaven.
You see, Stuff'n Mallows understands that s'mores are a treat worthy of debate and careful consideration. And whether you prefer your marshmallow golden brown or briefly burnt, there's no debate when it comes to chocolate. Toasted marshmallows, in every form, need chocolate. So, being genius, they decided to put the chocolate inside the marshmallow.
Why didn't we think of that?
Infused with perfect melty bits of chocolate, these marshmallows are the real deal. Instead of placing your expertly roasted marshmallow on a cold slab of chocolate, Stuff'n mallows ensures your chocolate gets equally melty and gooey, too. It's bold. Daring. Delicious.
You've gotta try one.
But don't just take our word for it, people are raving about them! Click here for more information.
Ponder this challenge from Kampgrounds of America. We were honored to be featured on the front of their directory for 2012.
What is your favorite way to roast marshmallows golden or burnt?  Order yellow rolla roasters here and we even have custom KOA roasters you can order with select KOA campgrounds.