Creekside Mallow's gourmet marshmallows that are naturally Gluten Free but not from a certified GF kitchen.
Flavors are Salted Caramel | Huckleberry | Vanilla | Mint Chocolate Chip | Peanut Butter | Toasted Coconut | Chocolate Covered Strawberries | Raspberry Cheesecake.
Contains: Sugar, Water, Corn Syrup, Gelatin, and Natural Flavors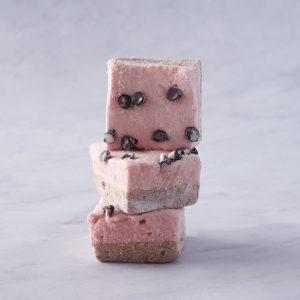 Custom Flavor Marshmallows Made in Idaho by Creekside Mallow Co.
Creekside Mallow's gourmet s'mores are the best! They looked for a source for better than average mallow then made one themselves. They came up with the perfect hand-crafted mallow. They are naturally Gluten Free Marshmallows however not from a certified GF kitchen.
Marshmallows Reinvented
Made from scratch in small batches to ensure that the flavors are perfect, Creekside mallows have become the delight of customers all across America. Its like going to the ice cream store but for marshmallows, these marshmallows come in an assortment of amazing custom flavor options that have gone through extensive tests, they must first pass the Creekside Mallow Co family's and friends expectations! Marshmallows like nothing you've ever tasted before.
Additional information
| | |
| --- | --- |
| Marshmallow Flavors | Salted Caramel, Huckleberry, Vanilla, Pumpkin Spice, S'more, Caramel Apple, Raspberry Cheesecake, Maple Nut, Banana Bread |