The Rolla Roaster was featured in Better Homes and Gardens Magazine this month. We want to share some of our favorite recipes, including pumpkin spice lattes, pumpkin bundt cake, and yet another fantastic s'mores recipe from their online recipe features.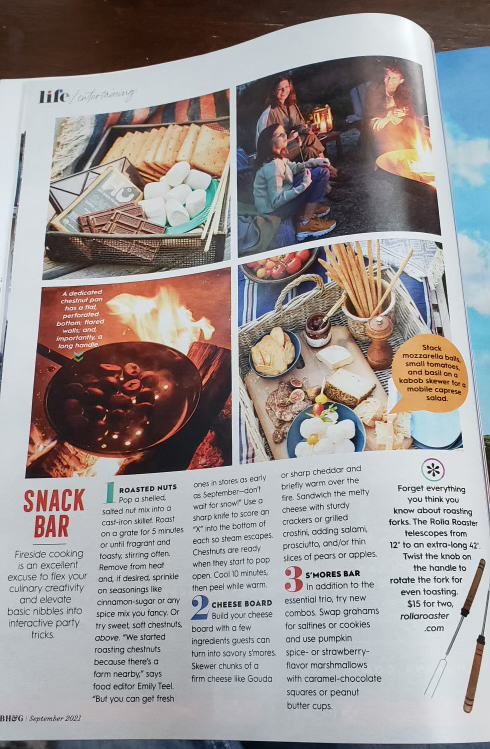 They say in the caption:
"Forget everything you know about roasting forks. The Rolla Roaster telescopes from 12″ to an extra-long 42″. Twist the knob on the handle to rotate the fork for even toasting. $15 for two. rollaroaster.com"
-Better Homes & Gardens.
Thank you so much for the shout out!
Amaretti Smores
This is a simple, delicious, and easy s'mores recipe for the autumn season.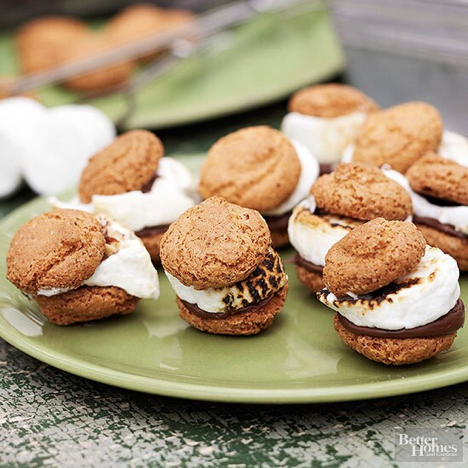 Ingredients
3 tablespoons chocolate-hazelnut spread
½ teaspoon instant espresso coffee powder
1 tablespoon finely chopped toasted hazelnuts
16 amaretti cookies
8 large marshmallows

Step 1 -In a small bowl stir together chocolate-hazelnut spread and coffee powder. Spread flat sides of amaretti cookies with chocolate-hazelnut spread mixture. Sprinkle with hazelnuts.


Step 2 – Using four long metal skewers, place two of the marshmallows on each skewer. To toast the marshmallows, hold skewers over the hot coals of a portable charcoal or gas grill about 5 minutes or until golden brown and soft, being careful not to touch the grill rack and rotating the skewers occasionally. Sandwich each marshmallow between the spread sides of two amaretti cookies.



https://www.bhg.com/recipe/amaretti-smores/
October 2021 Better Homes & Gardens Recipes
Pumpkin Spice Latte Bundt Cake with Whipped Cream
Everytime October rolls around it seems to be the theme, All Things Pumpkin Spice!
Unique fall dessert recipe featuring pumpkin, cocoa and espresso flavors.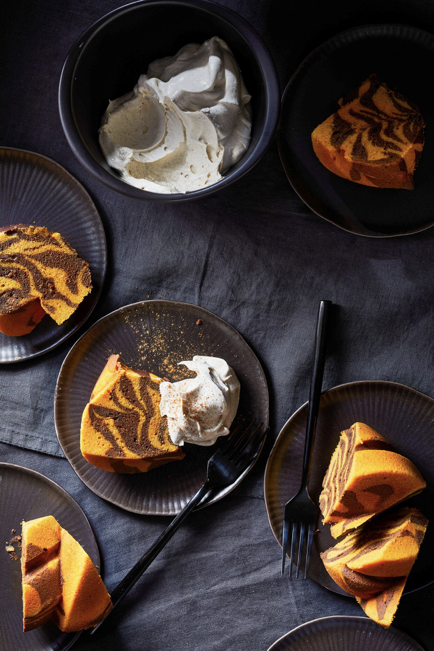 Ingredients
2 tablespoons instant espresso coffee powder
¾ cup evaporated milk
2 ⅓ cups cake flour
2 teaspoons baking powder
2 teaspoons pumpkin pie spice
½ teaspoon salt
1 ¼ cups sugar
½ cup butter, softened
1 ¼ cups canned pumpkin
⅓ cup vegetable oil  
2 eggs  
2 egg whites
1 teaspoon vanilla  
3 tablespoons dark unsweetened cocoa powder
Sweetened whipped cream
Step 1
Heat oven to 350°F. Lightly coat 10-inch fluted tube pan with nonstick baking spray
Step 2
In a small bowl combine espresso coffee powder and 1 Tbsp. of the evaporated milk; stir until dissolved.
Step 3
In a medium bowl stir together flour, baking powder, pumpkin pie spice, and 1/2 tsp. kosher salt. In a large bowl beat the sugar and butter with a mixer on medium to high 1 minute or until light and fluffy. Add pumpkin, eggs, egg whites, vanilla, and 1/3 cup vegetable oil; beat on low to combine. Alternately beat in flour mixture and remaining evaporated milk.
Step 4
Transfer half of the batter to a medium bowl. Add espresso mixture and cocoa powder; fold together.
Step 5
Place each batter in separate piping bags; pipe stripes into bottom of prepared pan. (Or using a cookie scoop, place a scoop of pumpkin batter into prepared pan; let it spread slightly. Place scoop of espresso batter directly on top of pumpkin batter. Alternate batters, allowing each to spread between scoops; batters will flow to fill bottom of pan.)
Step 6
Bake 40 minutes or until a wooden skewer comes out clean. Cool cake in pan on a wire rack 10 minutes. Remove cake from pan; cool completely.
Step 7
Serve cake with whipped cream and sprinkle with additional pumpkin pie spice. Serves 12.

RECIPE SOURCE:
https://www.bhg.com/recipe/pumpkin-spice-latte-bundt-cake-with-whipped-cream/