This is my favorite part about skiing. There's always this moment… It happens when you're halfway down a run. Suddenly, you're forced to stop. And not because you fell and broke your tailbone. Nope, you stop because the scenery is absolutely breathtaking—so beautiful it stops you in your tracks. You suck in a lungful of icy air and whisper on the exhale of a breath, "Wow."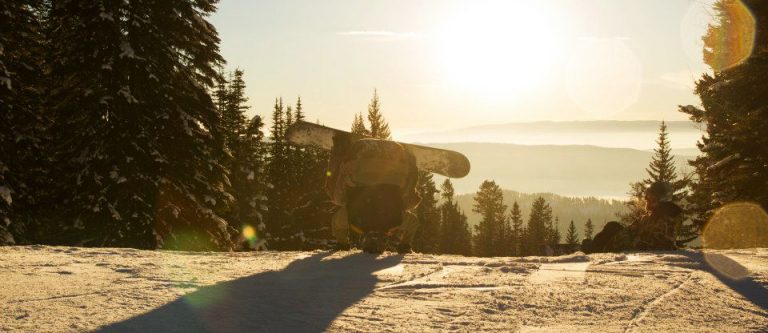 I live for those moments.
If you ski or snowboard on the regular, chances are you live for them, too.
So, here are 3 of my favorite, sometimes overlooked, ski hills in Idaho and Washington State, and why I love them so much.
Located in the pine scented mountains of Central Idaho, Brundage Mountain is just 8 miles outside the quaint resort town of McCall, ID. Brundage easily stakes their claim as the "Best Snow of Idaho" with over 320 inches of snowfall annually. I think it's safe to say that fresh powder is the greatest thing on earth. And with 1,500 skiable acres in-bound, and 17,000 snowcat guided backcountry acres to explore, Brundage has powder aplenty. If you're the type to build spreadsheets to compare  mountain stats and read up on things like elevation, vertical drop, trails, lifts, etc.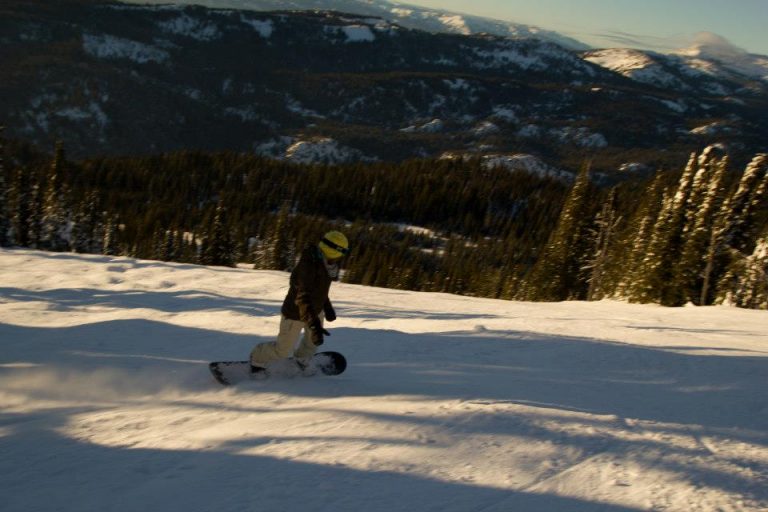 Sure, I grew up skiing Brundgage. Maybe I'm a tad biased. All I can say is that Brundage has a great personality. It's like that loyal friend, who's super savvy and smart, but most comfortable in blue jeans. You like that friend because he's a great conversationalist, down to earth, welcoming, and always up for a good time. You feel like a better person just by being around him. That's Brundage—zero percent hoity-toity and one hundred percent awesome.
Perk: If you hit the slopes sometime between late January and early February, you're in for a real treat. And by treat, I mean you'll get to enjoy spectacular firework displays over the lake, Torchlight and Mardi Gras parades, live music, and comedy shows, all while viewing some of the coolest, biggest, most artistically advanced ice sculptures you'll ever see. I'm talking about Winter Carnival a cherished festival that's been around since the 60's. With a wide variety of events and vendors, it's sure to please the whole family!

*This may go without saying, but if crowds aren't your cup o' tea, you better wait until the Winter Carnival is over. More than 60,000 spectators turn up for Winter Carnival each year. But don't fret! You'll be greeted with an abundance of quiet tranquility and small-town charm once the carnival is over.
Insider's Tip: After a long day on the slopes, head on over to Zims Hots Spings. They've got an Olympic size pool fed by natural hot springs that stays a mellow 93 degrees. If you're feeling particularly sore, the smaller soaking pool is kept at 104 degrees and sure to relax. You can thank me now, 'cuz your muscles will thank you later.
2.    Bluewood  Dayton, WA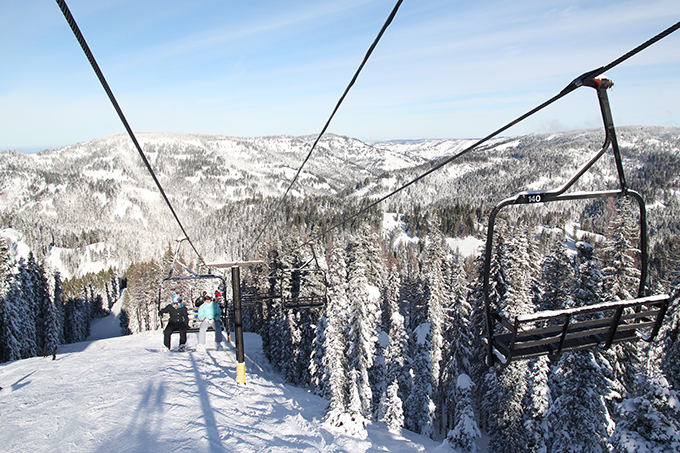 Never has there been a more inspiring story when it comes to ski resorts… Bluewood Mountain is like The Little Engine That Could! They had an uphill battle before they finally found their groove. Faced with overwhelming obstacles, such as snowless seasons, major floods, devastating forest fires, and even bankruptcy. It's an absolute astonishment they survived. Their soulful perseverance lends to an unmatched sense of community and pride among workers and patrons alike.
And speaking of workers, many of them have been with Bluewood from the very start! They stuck with it through all the trials and tribulations, their love for the mountain growing stronger along the way. You can hear that love clearly in their voices. To hear it for yourself, follow this link to watch Bluewood's inspiring story.
At only 400 skiable acres, Bluewood may seem a bit small. But don't let its small size fool you. For starters, they have some seriously epic trees. Believe me when I tell you, I would dig a hole near their roots and live there happily ever after if they'd allow it. The trees are that good. And they make for some challenging runs where you can easily discover hidden pockets of untouched, powder goodness. Oh, and the powder? They get more than 300 inches of snowfall annually with one very unique property. Their powder is literally "smoke-dry"—meaning it's light, fluffy, and, yes, DRY. It's the stuff dreams are made of!
But don't take my word for it. Pack up your gear and go see it for yourself!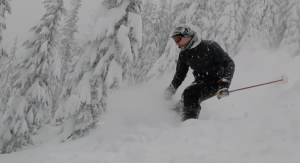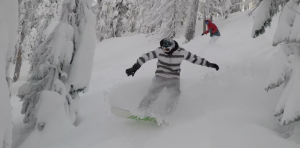 PERK: Every year, Bluewood has BASH – a crazy good time, where you're bound to get a little wet! Nope, not from the smoke-dry powder. It's either skim or swim at the Bash's annual Pond Skim! We dare you to try it. (TIP: Come in HOT, or you'll be swimmin', not skimmin'!)
*If you prefer to stay dry, don't cross the BASH off your list just yet. With face painting, costume contests, races, and music, there's plenty of dry fun to be had at BASH, too.
INSIDER'S TIP:  They are only open Thursday – Sunday (with the exception of some holidays). So don't plan a trip on the other three days a week or you'll be one sad hombre.What do they say at Bluewood? Oh, yeah… "See you on the Mountain!"
This isn't the type of list where I saved the best for last. Each of these mountains has a unique personality and special perks of their own. But I really, really dig Silver Mountain, and here's why: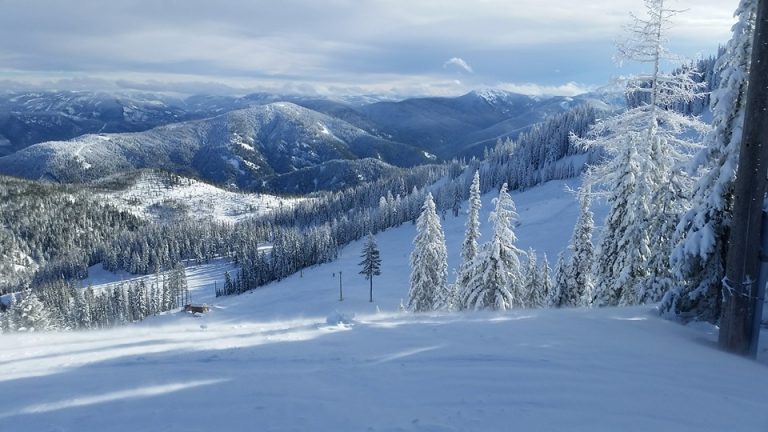 Raise your hand if you get carsick! You and me both! I'm like, "Would you kindly pull over so I can rid myself of breakfast?" Aren't we just a couple of kill joys? Not at Silver Mountain, we're not. Silver Mountain gets rid of the nasty, twisty, car-sick inducing trip to the mountain. Instead, you load into a fancy little gondola and enjoy the gorgeous 3 mile journey on the smooth, straight ride up to the mountain. No more carsickness. No more car accidents. It's a win-win. Excuse me while I do my happy dance.
You can find Silver Mountain in Kellogg, ID, in the panhandle of northern Idaho. It boasts more than 1,600 skiable acres on not one, but two mountains. The more the merrier, right? If you love searching through the glades for fresh powder, Silver Mountain has an extensive network of trees to tickle your fancy. Never a shortage of adventures! And the powder? It gets a lovely 300" of snowfall annually. Translation? I could do cartwheels in the pillowy-soft powder all day long. Oh, wait, we've basically done that. (See video below!)
You know what really excites me about Silver Mountain? It's a year-round resort jam-packed with things to do! Seriously, it is absolutely impossible to be bored there. If you do get bored, better get your brain checked, mate! In addition to perfect skiing, there's Silver Rapids Water Park, biking, tubing, fishing, golfing, outdoor movies, and more… there's never a shortage of fun.
PERK:  Silver Rapids Water Park deserves more than an honorary mention. Where else can you go surfing in the mountains? I'm talking, indoor, year-round water fun. There's a lazy river that's both relaxing and fun, and plenty of unique sections for kids to enjoy. Better still are the hot tubs to relax those overworked muscles.
INSIDER'S TIP: Bluewood runs a variety of deals for the opportunity to save on lift tickets, this year in March they have a special running.  If you bring 6 Pepsi products on Thursday  when you buy one adult lift ticket you'll get one of equal or lesser value for free. Great deal when skiing with friends or family!
In case you need further convincing to plan your next ski trip to these lovely mountains, we've put together a video to feature all three mountains. Watch, enjoy, and share the love!
Author's note: Before you invite me on your next ski trip (the answer is YES, obviously!), I should warn you… I have this irrational fear that I am going to randomly spaz out and fall off the chair lift. I've been skiing since I was five and it has yet to happen. But still, fear is a powerful emotion and I'm the one sitting next to you growling, "Quit flailing, or I'll knock yer teeth out!" Ha! Kidding… (Not kidding). You've been warned.
Cheers!
Katelyn Holzer is the talented photographer and free-spirited daughter of the legendary inventor, Bob Holzer.
Written by the word-nerd extraordinaire, Becca Storm.