The RollaRoaster.
This rotating barbeque fork is the ultimate tool for cooking on a campfire, barbeque or woodstove. You can pierce anything that you want on the end of the end of the fork: some meat, veggies, fruit, or marshmallows, of course.  Then sit back, extend the telescoping rod out to the perfect length, and simply rotate your food by using the rotisserie turning knob. (No more injured wrists or sore backs from hunching close to the fire to twist your food with your entire arm!) The Rolla Roaster telescopes out from 1 foot to 3 and  half feet; so if you're cooking something on a raging bonfire or over the embers of your dying campfire, you can adjust your distance easily. The heat-resistant wooden handle will protect your hand from overheating, like it might with another cooking fork, and is comfortable to use. The stainless steel fork is easy to clean and will prevent any unseemly slivers in your food or mouth from a wooden stick. Every Rolla Roaster comes with a vinyl case for convenient storage and can be purchased in any color of the rainbow. These are the perfect gift for any outdoorsy person- they are a safe and fun gift for children also!
Adventure Medical Ultralight Kit
You never know when you're going to need something for a medical emergency so it's always best to just pack the essentials with you. This ultralight medical kit is compact and light weight so that it is easy to slip into a day pack or to fit in the top pouch of your backpack for a longer trip. It comes stocked with the bandages and pills to treat a basic scrape or headache as well as the basic needs for stabilizing some major injury. There is a little extra room in the kit so that you can specialize it for anyone in your group that has special health needs or add more equipment for a longer trip. It's always a good idea to know basic first aid as well as being aware of what gear you can use if an accident occurs. Here's a link to Backpacker Magazine's Ultimate First Aid Manual so that you can make sure your medical kit has everything you need for your trip as well as touching up on your first aid skills. Adventure Medical provides kits ranging from the Ultralight Solo kit to professional, mountain, sportsman, marine, and international kits.
Please visit www.AdventureMedicalKits.com for more of their products to keep you and your loved ones safe on your outdoor adventures.
Orikaso Fold-Flat Table Ware
Not only does this tableware set fold flat for easy packing, but it is fun and easy to put together and is super lightweight. The polypropylene has grooves for easy, fool-proof folding into cups, bowls and plates for your outdoor meal. The sturdy material even holds up under high heat! I poured an Orikaso cup full of steaming coffee and only felt the pleasant heat of the drink through the cup while I enjoyed my morning caffeine fix. Available in solo or family size sets these dishes are extremely easy to clean and dry and 100% recyclable! And did I mention that they pack flat so they're easy to fit into your backpack, bicycle bag, or car? However you get out into nature, you can easily take them with you.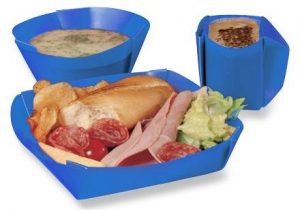 Visit www.modernoutpost.com to learn about this North American product.
Grand Trunk Ultralight Hammock
Super-compact and ultra-light, this hammock is a traveler's dream. Whether you are going on a day hike or a long backpacking trip, this hammock is easy to carry along in your pack. It only takes two trees of an appropriate distance and a few minutes to set up and then voila! You're all set up for a siesta. For a warm weather camping trip just leave your tent and sleeping pad behind and throw your sleeping bag in this hammock! The polyester hammock is machine-washable, weighs only 12 ounces, and packs into an attached stuff sack. This hammock would be perfect to throw in your suitcase for a beach vacation or in your picnic basket, because let's be honest, who doesn't like to be comfortable when taking a break to look up at the clouds.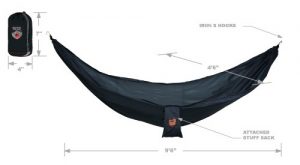 Visit https://www.grandtrunk.com for more great products.
Petzl ZIPKA PLUS 2 Headlamp
Petzl is the ultimate headlamp provider for outdoor adventuring. The ZIPKA PLUS 2, their ultra-compact headlamp, has a retractable cord, five lighting modes, and weighs only 71 grams. The retractable cord system allows the ZIPKA PLUS 2 to be worn on the head or wrist or attached to any other support. Its high-output LED can light up to 40 meters in maximum mode or burn for 185 hours in economic mode. The red LED is useful for preserving night vision or providing strobe lighting for safety in an urban setting. This headlamp is super lightweight and comfortable, is easy to use and to change the batteries, and works reliably in low temperatures. It has a cool safety system that prevents it from being turned on in your pack and comes in gray or red.
Visit Petzl's website, http://www.petzl.com/us/outdoor/headlamp/super-compact/zipka-plus, to look at this product and more.
And there you have it- the top five, lightweight and compact products that are perfect gifts for outdoorsy people: the Rolla Roaster, Adventure Medical Ultralight Kit, Orikaso's Fold Flat Tableware, Grand Trunk Traveler's Hammock, and Petzl's ZIPKA PLUS 2 headlamp.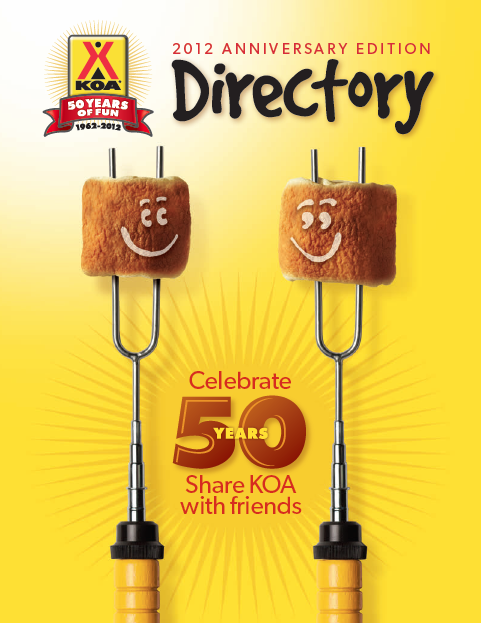 Visit www.RollaRoaster.com to order your Rolla Roaster today!